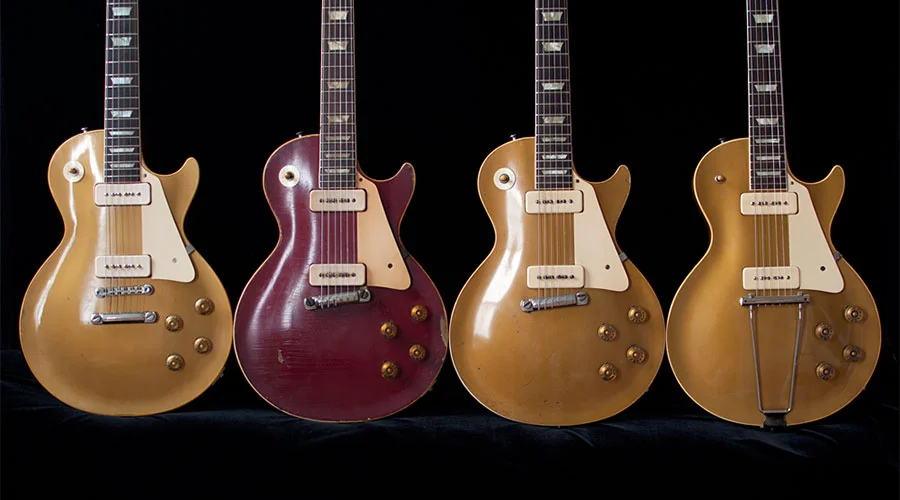 The speedometer tips past 80 as you hurtle along the highway, windows down. You turn on the radio, and over the sound of the roaring wind your ears are blessed by Eric Clapton playing 'Hideaway.' Turning the dial through the different stations, you hear 'Oh Well' by Fleetwood Mac, 'God Save The Queen' by the Sex Pistols, and 'Whole Lotta Love' by Led Zeppelin.
Aside from being classic hits by fantastic artists, what is the thread that connects these musical greats? These iconic songs are defined by what is in many ways the holy grail of electric guitars: The Les Paul.
History of The Les Paul
The Les Paul guitar was named after Lester Paul himself. Though mostly known for being a talented performer, he was also an inventor. He approached Gibson in Kalamazoo, Michigan in the 1940s with a custom-built guitar, which he affectionately named "The Log" due to the solid chunk of pine that ran through the body—but Gibson rejected his design.
Believe it or not, the guitar that would eventually become the hallowed Les Paul model was not designed by Les Paul himself. Rather, a team of engineers at Gibson, led by Ted McCarty, pioneered the look and feel of this American classic. But Les Paul was not totally absent from the process, as he would constantly lend his thoughts and input to the design team.
Production of the first solidbody electric guitar, known as the Gibson Les Paul, began in order to compete with Fender, who was already making solid electrics starting in 1950.
Upon its release in 1952, the Les Paul guitar, with the nice carved top and opaque gold finish, was considered a bit of a failure, with Gibson actually halting production by 1961, replacing it with a variant model called the SG. But by the mid-1960s, the Les Paul began picking up steam again, becoming the favorite of many of the most iconic stars of the era (more on this in a later section). In 1968, Gibson restarted production of the Les Paul; and it hasn't stopped since!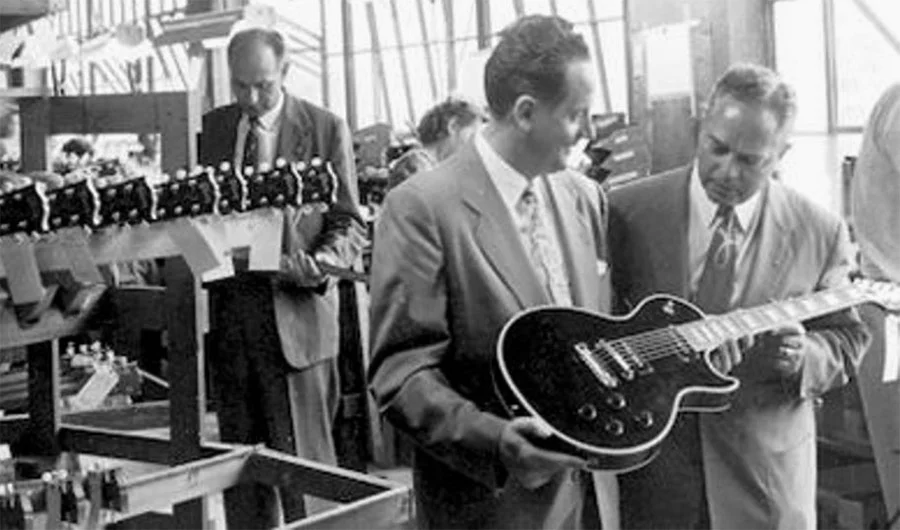 1950's Gibson Les Paul Timeline
1952 was the first time Gibson released the Gibson Les Paul Goldtop with two white P-90 pickups, and a trapeze tailpiece. Early models did not have neck binding, they had white side dots instead, the bridge pickups had mounting screws in two corners, and no toggle switch ring plastic.
1953 the trapeze was replaced with a wraparound tailpiece. The Bigsby B-7 vibrato unit was available as an option.
1954 the upscale Les Paul Custom in black finish and equipped with a Alnico V "staple" neck pickup was introduced, as well as the simpler one-pickup Les Paul Junior in sunburst finish.
1955 the intermediate-level Les Paul Special in a finish known as "TV Yellow", so that it looked good on black and white TV screens back then, was introduced
1956 the Goldtop was modified and upgraded, and the wraparound was replaced with an adjustable Tune-o-matic bridge
1957 the Goldtop was modified and improved again, and the P-90s were replaced with two humbucking pickups (no "PAF" stickers in the earlier ones). The Custom started using the 3-pickup configuration.
1958 Gibson started using the red cherry "Sunburst" finish instead of gold, and the pickups had "PAF" stickers on them
1959 flamed maple tops were used, and these Les Pauls are often considered the "holy grails of electric guitars."
1960 the neck profiles were slimmer, and the sunburst finish was unique, often being referred to as "tomato soup" or "clownburst" finish. This is also the last time Les Pauls were produced before the introduction of the SG model in 1961.
The Les Paul Design
One glance at a Les Paul, and the mind is stirred to the purest visions of 1950s and 60s American rock 'n' roll. It is undoubtedly one of the most iconic electric guitars ever created, perhaps second in renown only to the Fender Stratocaster.
The Les Paul is famous primarily for its thick, meaty tones and tremendous sustain. Though originally created for the blues and rock genres, the Les Paul is considered by many today to be the most versatile electric guitar on the market, used in genres like punk rock, heavy metal, country, pop, jazz, and reggae.
Of course, that's all wonderful—but what exactly is it that makes the Les Paul so special? Let's take a deeper dive into the specifics of this classic guitar.
Ergonomics
The Les Paul is a solid body electric, with a mahogany body and maple top. The guitar has a single cutout, which makes it easier for a technical guitarist to reach the highest frets. Unlike a Stratocaster, the Les Paul's rounded shape mimics that of an acoustic guitar, lending it more of a 'classic' look.
Thanks to this natural body shape, Les Pauls are generally quite comfortable to play, although they are notoriously heavy due to the density and quality of the mahogany body. A Les Paul weighs in at around 10 pounds, which can be a bit of a shock at first if you're used to playing other electric guitars. In comparison, a Stratocaster weighs only 8 pounds.
Much of the Les Paul's prized sound qualities are a direct result of its unique body design. Mahogany is known for providing a deep, throaty resonance, while maple generally has a brighter, higher tone. Because the Les Paul's body is constructed with both types of wood, it gets the benefit of both. The result? That unmistakable Les Paul 'wall of sound' quality.
Neck
The Les Paul is also known for its blissfully long sustain. This is in part due to its set-in neck, a neck joint design which is used primarily on acoustic guitars. Set-in necks share significant surface area with the guitar's body, generating long sustain and allowing the player to really feel the string vibrations in the body of the guitar.
The fretboard is usually constructed from one lucky piece of rosewood, with white, blocky fretboard inlays. The Les Paul is unique in that its scale length (the distance from nut to saddle) is a bit shorter than that of most of its peers. For example, the Stratocasters and Telecasters both have scale lengths of 25.5 inches, while the Les Paul's comes in at only 24.75.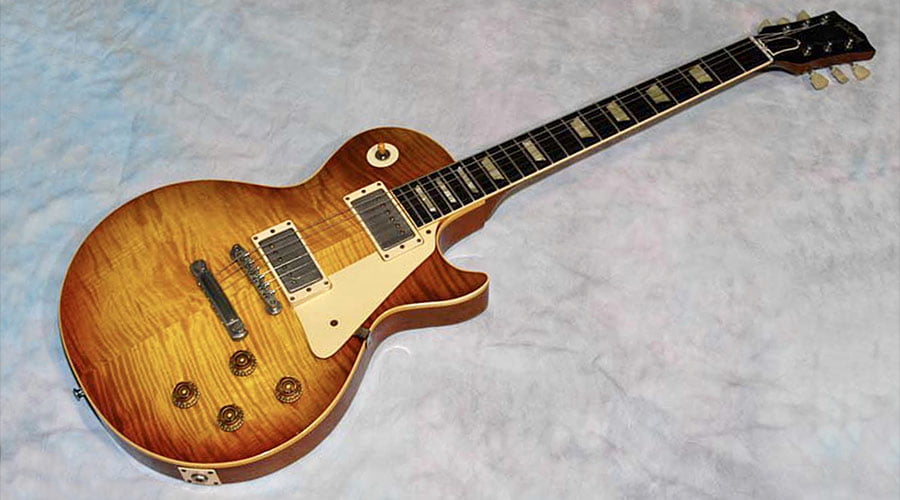 Bridge
In 1953, the ever-innovative Ted McCarty (who designed the Les Paul guitar) engineered a new, state-of-the-art fixed bridge: the Tune-o-matic.
Because deeper, thicker guitar strings have a harder time vibrating than thinner ones, previous bridges were usually slanted in order to subtly increase the length of the thicker strings. The Tune-o-matic revolutionized this by allowing the user to make custom adjustments to the length of all six strings individually.
The Tune-o-matic bridge was initially used on Gibson's Super 400 guitar, but by 1955 it had made its way over to the Les Paul as well. Over time, this bridge became the gold standard for nearly all of Gibson's electrics.
Pickups
The Les Paul guitar features two pickups: one at the base of the neck, and another at the bridge.
First designed with P-90 pickups, the Les Paul now sports modern humbuckers or vintage PAF pickups. What's the difference between these two? P-90 pickups are single-coil pickups, while humbucking pickups are double-coil.
Rather than drowning ourselves in the specific technicalities of how pickups work, suffice it to say that single-coil pickups generally produce a thin, bright sound, whereas double-coils are known for producing a richer sound, with a higher overall sound output.
These humbucking pickups undoubtedly play a sizeable role in giving the Les Paul its iconic, room-rattling power.
Controls
Many guitarists love the Les Paul for its comparatively advanced control scheme. Most electric guitars have one tone knob and one volume knob—the Les Paul has two of each, along with a pickup selector.
The pickup selector is somewhat self-explanatory. Because the Les Paul has two pickups, you are granted three options: 1) neck pickup, 2) bridge pickup, 3) both pickups together. As you can imagine, the pickup selection has a subtle bearing on the tone produced.
What makes the Les Paul somewhat unique is that the neck pickup and bridge pickup each have their own volume and tone knobs. By adjusting which pickup(s) are selected, how loud each pickup is, and the tone of each pickup, you are enabled to fiddle around with a nearly endless combination of sounds.
If you are an electric guitarist, you know just how wonderful of a feature this is.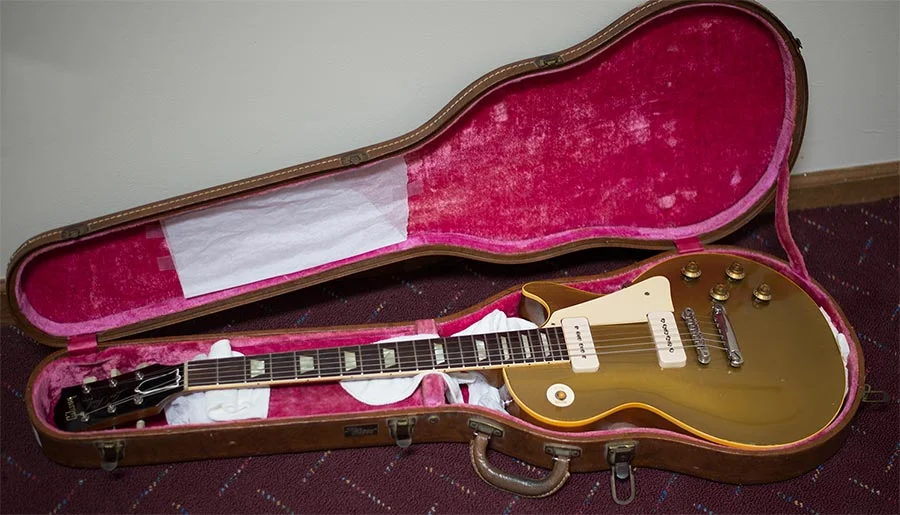 The Finish Fading (1958-1960)
Over time, the sunburst finishes in the late '50s Bursts would fade, particularly the red pigment, typically as a result of exposure to natural daylight. However, Bursts from 1958 kept their red color better, and the ones from late 1960 pretty much kept their cherry color due to the paint formula change in that year.
How to Customize A Les Paul
The constant desire to improve and modify sounds is a quality innate to musicians everywhere—perhaps to a fault. While a Les Paul will sound unquestionably angelic straight out of the box, certain modifications can produce subtle changes in the exact sound and feel of the guitar. Some of the most popular customizations are listed below.
The factory bridge and tailpiece can be swapped out for a lightweight, aluminum bridge of the same design, reducing the somewhat cumbersome weight of the Les Paul.
The standard Tune-o-matic bridge features somewhat sharp saddles (the points where the strings meet the bridge). These saddles can be changed out for 'string saver' saddles, which preserve tone while reducing string damage, thereby lengthening string life.
Many guitarists find that the Les Paul's factory nut is somewhat lacking in quality. Replacing it with a higher-quality brass nut, or bone nut for a more vintage tone, will generally improve your Les Paul's tone (though of course tone is always a matter of opinion).
Of course, changing your Les Paul's pickups will have perhaps the largest influence on its overall sound. There is a staggering selection of electric guitar pickups available, each with their own unique offerings; you could spend years researching this topic!
Besides customizing your Les Paul, you may also want to try different amplifiers and effects pedals at your local music shop to help you find the tone that you're looking for. Don't know where to start? We reviewed and listed some of the best Les Paul amps.
Artists Who Rock With A Les Paul
The Les Paul has been used throughout the ages by an enormous array of famous musicians. Some played theirs more or less straight out of the box, while others chose to apply heavy modifications. Regardless, let the eminence of the names below be a testament to the enduring musical treasure that is the Les Paul.
Jimmy Page was the heartbeat of the classic rock band Led Zeppelin. He took a liking to the Les Paul guitar due to its power and sustain capabilities, settling on a beautiful 1959 model that undoubtedly became his most heavily used guitar.
Billy Gibbons, the guitarist of ZZ Top, used a beautiful 1959 Gibson Les Paul for live concerts, as well as on the ZZ Top albums Tres Hombres and Eliminator.
Neil Young played everything from folk and country to heavy rock. His instrument of choice was a 1953 Les Paul with a custom pickup.
Bob Marley, king and pioneer of the reggae genre, used a Les Paul Junior guitar with original P-90 (single-coil) pickups—that is, when he wasn't playing his favorite acoustics.
This list wouldn't be complete without mentioning Mr. Les Paul himself, the jazz, country, blues, and rock legend of the 1940s and 50s, whose talent and character served as the inspiration for this famous guitar.
If you're wondering why Guns N' Roses' lead guitarist Slash isn't on this list, that's an interesting story. Though he owned an entire collection of Gibson Les Pauls, most of Slash's ripping solos were actually played on his Les Paul replica, created by luthier Kris Derrig. Seems bizarre.
Other Famous Gibson Guitars
The Les Paul is unquestionably Gibson's most iconic electric—but Gibson is more than a one-trick pony. Whether electrics or acoustics, Gibson has designed and constructed a plethora of other industry-defining beauties.
The Gibson SG was the model that initially replaced the Les Paul, due to the latter's lack of demand upon its release. The SG is lighter and sleeker, producing brighter, sharper tones than the Les Paul.
The Gibson ES-335 was a favorite of both Chuck Berry and B.B. King. This semi-hollow electric guitar was the first of its kind and is still used constantly today for jazz, blues and rock.
The Gibson J-45 is arguably the most famous acoustic guitar of all time. In many ways the acoustic equivalent of the Les Paul, it's known for its warm, deep tones and loud projection.

Final Thoughts
If you've gotten this far, you probably know more about the specifics of the Les Paul guitar than 90% of musicians. If you're looking to purchase a new electric, this article should have helped narrow down your choices. Make sure you check out our article on how to spot a fake Gibson Les Paul before buying.
If you want to keep reading, check out our articles on Les Paul copies and Chibson guitars next.
We hope you never stop making music! Shred on.
Frequently Asked Questions
Why do people like Les Paul guitars?
The Les Paul has become a favorite of guitarists everywhere due to its room-shaking output power, endless sustain, and even, full tones.
What are the advantages of a Les Paul?
The primary advantage of the Les Paul is its unique, matchless tonal quality. Other advantages include generally excellent resale value, vintage aesthetics, and high-quality pickups.
How is a Les Paul better than a Strat?
It's impossible to declare that one guitar is objectively 'better' than another, since differences in sound are matters of opinion. However, if you want a guitar that provides warm tones, long sustain, and loud output, a Les Paul would be a better option than a Stratocaster. Some guitarists also hold that the Les Paul comes with higher quality pickups than the Stratocaster.
Is a Les Paul heavier than a Strat?
A Les Paul is significantly heavier than a Stratocaster. Les Pauls average out at 10 pounds, while Stratocasters average 8 pounds. Usually, the Les Paul Customs are heavier than the Standards.
Share this post with your friends using these one-click sharing options:

👉 Click here to share on Facebook.
👉 Click here to share on Twitter.
👉 Click here to share on LinkedIn.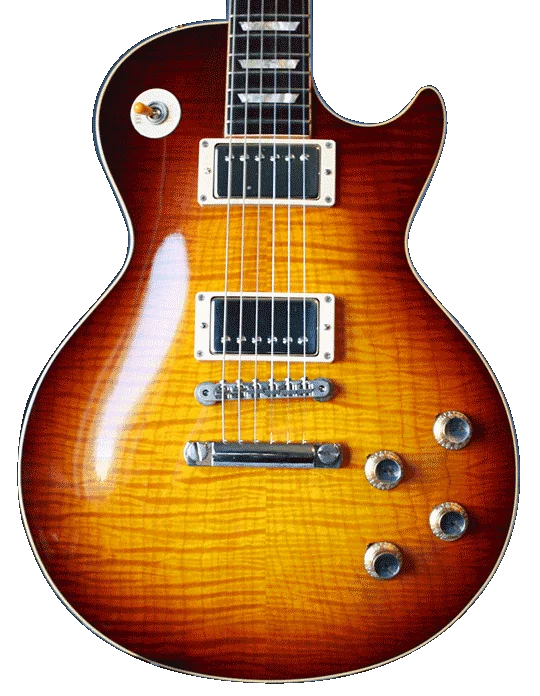 Subscribe to Gear Talk!
Get the latest reviews, tips and guides in your inbox.
By subscribing, you agree to get emails from GearTalk. We respect your privacy and you can usubscribe any time.