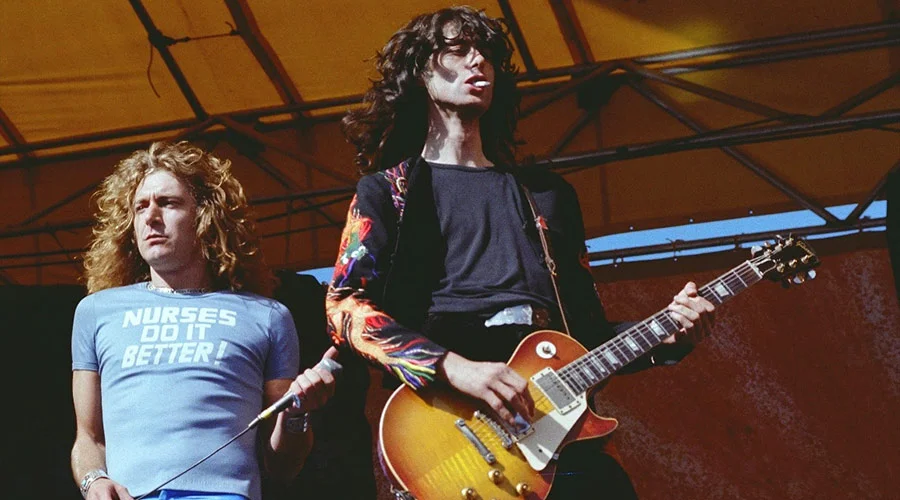 Who is the most iconic Les Paul player of all time?
A question that is sure to elicit quite a response. There are a few players who instantly spring to mind. Eric Clapton was the first of the British-based rockers to bring the discontinued Gibson Les Paul back to the attention of the masses with his playing on the Beano album. There is no question that the Sunburst Standard that he purchased in May of 1965, when paired with the Marshall JTM combo changed the course of rock history. The problem with Clapton is he is associated with too many guitars, his use of the Cherry Red Gibson ES-335 at Cream's farewell concerts in the Royal Albert Hall in 1968 is iconic. He would go on to switch to Stratocasters in the 1970's and has largely favored them ever since. So, despite his influence, he is not automatically associated with the Les Paul.
Keith Richards discovered the model before Clapton did, he acquired a '59 Standard in 1964 but again the iconic Stone's guitarist is a Telecaster man. So, who else? Jeff Beck, Duane Allman, Peter Green, Billy Gibbons, Paul Kossoff, Mike Bloomfield, Slash? The truth is there is a case to be made for any one of these great players. But to my mind, there is one who stands out: Jimmy Page. I know, opinions and assholes…we've all got them but show me a guitarist who doesn't love to argue, and I'll show you a frustrated drummer.
In this article, we are going to take a look at the 3 Gibson Les Pauls most closely associated with Jimmy Page. His 1960 Custom, and his two 1959 Sunburst Standards, his Number 1 and Number 2. He has used other Les Pauls, most notably his refinished 1969/70 number but for this article, I will stick to the Custom and his Bursts.
1960 Les Paul Custom Black Beauty
Jimmy was playing with Neil Christian and the Crusaders when he went into a shop on the Charing Cross road in London to chew the fat with other guitarists and scan the racks. The shop was called Lew Davis and was known to be easier going than the larger Selmers it was attached to.
"I went in there one day and there was this guitar hanging on the wall looking so bloody sexy in its black and gold. It was saying, "Come on then. Come on, stop looking and ask them if you can play me." I just played it unplugged for quite a while. Then when I plugged it in it was like a dream, and I knew this was it. It sounded extraordinary. I knew it was coming home with me."1
This was around 1963/64 and the Custom would go on to be Page's main guitar up until he joined the Yardbirds in 1966. It would also be used in the early years of Zeppelin for recording.
Way down inside…
There are a few things about this guitar that make it interesting. Firstly, it is a 1960 model, so that would make it one of the last of the original Customs to be produced by Gibson, the Les Paul would be unceremoniously discontinued and replaced with the SG in 1961. Secondly, Jimmy's guitar had a factory fitted Bigbsy and 3 PAF pickups. PAF being the famous Patent Applied For pickups, designed by Seth Lover and installed on all the golden era Les Pauls from 1958-1960 The third thing is the addition of some extra switching options added by Jimmy himself in early 1970. This was done to allow him the flexibility to select any combination of the pickups as well as change their phasing or switch them off entirely. This modification would have a large bearing on the history of the instrument as we will see.
At the time of the purchase, Jimmy was not awash with cash, his initial idea was to trade in some of his guitars or look at a hire purchase plan, we've all been there! His luck though was about to change. While playing for the interval band at the legendary Marquee club on London's Oxford Road he was to be asked to play as a session musician on an instrumental track called "Diamonds" by the ex-bassist for the Shadows, Jet Harris. The single would go on to be number one and Page was suddenly, an in-demand session guitarist.
As a session player, Jimmy and his Les Paul Custom played on hundreds of tracks throughout the 1960's. Some of the most notable examples being the James Bond theme "Goldfinger", "Baby, Please Don't Go" by Them, Petula Clark's "Downtown" and The Who track "Bald Headed Woman".
The Black Beauty would prove to be the perfect instrument for the session work, the tonal variation that the 3-pickups offered were an ideal match for the varying styles that the young Page would be called upon to demonstrate. Jimmy would become very fond of his black Custom, in fact, when he started life as a touring guitarist with Led Zeppelin, he refused to take his prized instrument out on the road with him.
There's a lady who knows…
In what seems to be a case of foreshadowing, Jimmy's reluctance to take the guitar out stemmed from a fear that something would happen to it.
"The Black Beauty, which got nicked in the States; it disappeared in an airport, somewhere between Boston and Montreal. A lot of my session work had been done on that guitar. I didn't want to take it out the house. Funny that once I did take it out, it got nicked!"2
Jimmy would take out an advertisement in Rolling Stone magazine asking for information on his lost guitar. The ad was in every issue for an entire year but it was in vain. He never gave up looking for his guitar, but the Custom eluded him for the next 20 years.
It's been a long time since I rock and rolled…
In the early 1990's someone walked into a guitar store in Minnesota carrying a 1960 Les Paul Custom, he insisted the guitar was Page's stolen Black Beauty. He claimed to have purchased the instrument for $5,000 from the elderly widow of a Minneapolis airport employee who had stolen it in 1970. The guitar had remained under the man's bed until his death. He went on to ask for nothing more than the $5,000 back he had paid for it, and to make sure Jimmy was reunited with his guitar. The owner of the shop duly contacted someone close to Page and described the instrument that he had in front of him. It was a perfect match, apart from one small detail: this guitar did not have the additional switching that Jimmy had installed on his Les Paul. There was no evidence that the switching had been removed, so the guitar was sold to an employee of the Minnesota guitar store and the trail went cold.
The employee was a young guitarist called Paul "Bleem" Claesgens. Unaware of what he had, he would go on to play the guitar around the bars and clubs of Minneapolis for the next 20 years. Until fate intervened and, when an ill-advised attempt at swinging the guitar around his body while attached to the strap went wrong, the guitar required major surgery for a headstock break. Back it went back to the shop for repair. Only this time it was put under black light and the repairing of the now-removed switches was revealed. The mystery had been solved and after contact had been made, Jimmy was finally reunited with his first Les Paul. A replacement 1960 Les Paul Custom was sourced and purchased at a price of $70,000 which Jimmy paid for, and the exchange was made.
Home at last.
1959 Gibson Les Paul Standard Number 1
Jimmy had inherited a Fender Telecaster when he assumed the role of guitarist in The Yardbirds, he had used it as the primary recording guitar for the first Led Zeppelin album, but he had decided that for the second album, he wanted a more muscular sound. He had also started to have some trouble whilst using the Telecaster live: "With the sort of volume that I now needed to put out in live situations, although I was using controlled feedback, I found that the Telecaster was starting to squeal quite a bit."3 So, when Joe Walsh put a Sunburst 1959 in his hands and told him "You've got to have this guitar." The timing was fortuitous. The truth is Jimmy was initially reluctant to buy another Les Paul, he was happy with his Custom and didn't really see the need to buy another. He relented though and for the princely sum of either (depending on which account you read) $500 or $1,200, he got his first 'Burst.
Sounds caress my ear…
"As soon as I played the Les Paul I fell in love. Not that the Tele isn't user friendly, but the Les Paul was gorgeous and easy to play. It just seemed like a good touring guitar."4
"With the Les Paul you'd get feedback through the amp and speakers, but you could control it more easily and work with it. You could actually change the literal note and frequency that was coming back on the feedback. I just really enjoyed playing Joe's guitar, and so I agreed with him that maybe I should buy his Les Paul Standard after all."5
This was to become the famous "Number One" and would be his main guitar from then on. It was present on every single Zeppelin tour and album and remains his number 1 to this day. It can be seen extensively in "The Song Remains the Same" as well as the more recent documentary "It Might Get Loud".
That I think this is the one…
Like the 1960 Custom, the '59 Standard has some interesting modifications. The first being the neck. Before the guitar came into Jimmy's possession the neck had been shaved down to make it extra thin, this had particularly appealed to Page, it was certainly a distinguishing feature. In addition to this new gold-plated Grover tuners replaced the original Klusons, Jimmy preferred these due to their improved sensitivity.
The guitar originally had a pair of PAF pickups in it, but the bridge was replaced in 1972 with a T-Top humbucker that was to remain for the lifespan of Zeppelin but would also be replaced by a custom wound Seymour Duncan in the 1990's. The neck pickup would also be replaced but this time it was with an original PAF.
Throughout his time with Led Zeppelin, the Standard remained largely untouched, apart from the pickup change but that was to change in the 1980's when he changed one of the original knobs to a push-pull knob in order to get the Peter Green out of phase sound. When Gibson came to him in 2003 with the idea of recreating his guitar, he discussed it:
"I customized my number two Les Paul, which again is a real old vintage one too. However, that gave any combination of all of these (pickups). But it was a little fussy because all of the knobs were push/pull, and I had little switches (below the pickguard).
Reality of it was – the thing that I found most important to me was the fact that you could reverse the phase on this. By reversing the phase, you get a close approximation to the sound Peter Green would get."6
The finish of the guitar was originally the classic Cherry Sunburst, but it has faded over the years to what could now be termed a honeyburst, it is a lightly figured maple top that is more akin to a classic '58 plain top.
Jimmy has described it as irreplaceable.
1959 Gibson Les Paul Standard Number 2
There are conflicting reports on how this guitar came to be in Jimmy's possession, with some saying he acquired it in England in 1973 but in "The Jimmy Page Anthology" he writes:
"When staying at the Drake a guitar seller came to my room with a Les Paul Standard for sale (what became my Les Paul "Number Two"). I played it and I really liked it."7
The guitar entered Jimmy's world under a cloud of suspicion as $20,000 of the band's money was stolen from the hotel's safety deposit box that night. When the tour manager, Richard Cole was sent to collect the money to pay for the Les Paul, he discovered it was missing. The money was never recovered, and several theories exist as to the identity of the culprit. These range from Cole to the night porter to the mafia, to the band themselves.
What is for certain is that the guitar did not appear on stage until 1975, when it was brought into service as a back for his Number One. Jimmy had the neck modified to approximate the dimensions of his main Les Paul, as well as installing the same Grover tuners.
Initially, the guitar was used for "Kashmir" and was in DADGAD tuning but it would later become a straight backup for Number One.
Let the music be your master…
The Standard would remain untouched throughout his time with Led Zeppelin, but this again changed in the 1980's. Now, we have already seen that Jimmy liked to customize his guitars, but with his Number Two, he took this to a whole new level. Ever the sonic visionary, Page came up with a plan to fully explore the limits of 2 humbuckers. The original pots were replaced with 4 push/pull pots thus enabling the pickups to be split by pulling out one of the tone/volume buttons, in addition to this the guitar had series/parallel and an option for phase reversing. A whole new wiring schematic had to be devised for this as well as an additional two push button switches that were hidden underneath the pickguard.
Appearance-wise, what separates it from the Number One is the slightly darker cherry on the upper bout around the pickup selector and the double black bobbins on the bridge pickup instead of the double cream.
The guitar remains with Jimmy to this day.
Final Thoughts on Jimmy Page's Les Pauls
So, there you have it, 3 guitars that changed the world.
On paper nothing more than some mahogany and maple, with some electronics and a pretty paint job, but when they found their way into the hands of someone as talented as Jimmy Page the impact on music was seismic. From the unmistakable riff on "Whole Lotta Love" to the finger-twisting "Black Dog" and the epic sound of "Immigrant Song", the Les Paul was as much a part of the Zeppelin sound as John Bonham's drumming or Robert Plant's inimitable vocals.
Sometimes the whole far outweighs the sum of the parts.
Frequently Asked Questions
What Les Paul does Jimmy Page use?
Jimmy Page has had several Les Paul models throughout his career, including a 1960 3-pickup custom and a 1969/70 refinished Standard but he is most famously associated with his 1959 Gibson Les Paul Standard.
What is Jimmy Page's Les Paul worth?
An impossible question to answer with 100% accuracy but the Peter Green 1959 Les Paul was bought by Kirk Hammet of Metallica for a reported $2,000,000. An ordinary 1959 Standard, so a guitar that has no association with an artist can fetch $400,000. As fantastic a guitar player Peter Green was, Led Zep and Jimmy Page have a much larger fanbase. An educated guess for his Number One would be upwards of 2 million, possibly even closer to $3,000,000.
What pickups are in Jimmy Pages Les Paul?
Jimmy's Number One started life with 2 patent applied for pickups, but after the bridge failed it was replaced with a 1970's T-Top which was then replaced in the 1980's with a custom wound Seymour Duncan humbucker. The neck pickup was replaced with a vintage correct PAF.
Did Jimmy Page ever play a Stratocaster?
Absolutely! Jimmy has owned and played several Fender Strats. The most notable being, a 1956 maple necked Sunburst, a 1961 with a rosewood board in Olympic white and a 1960 Lake Placid Blue also with a rosewood board.
References
1, 3, 5, 7 Jimmy Page The Anthology. 2, 4 Ground Guitar. 6 YouTube.
Share this post with your friends using these one-click sharing options:

👉 Click here to share on Facebook.
👉 Click here to share on Twitter.
👉 Click here to share on LinkedIn.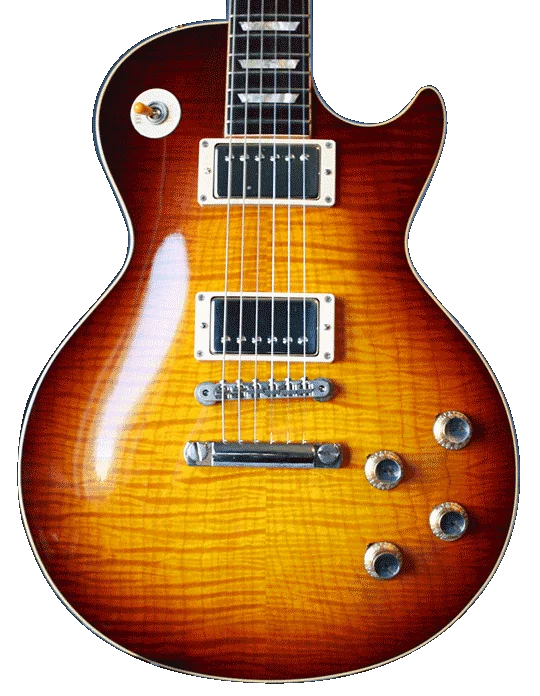 Subscribe to Gear Talk!
Get the latest reviews, tips and guides in your inbox.
By subscribing, you agree to get emails from GearTalk. We respect your privacy and you can usubscribe any time.