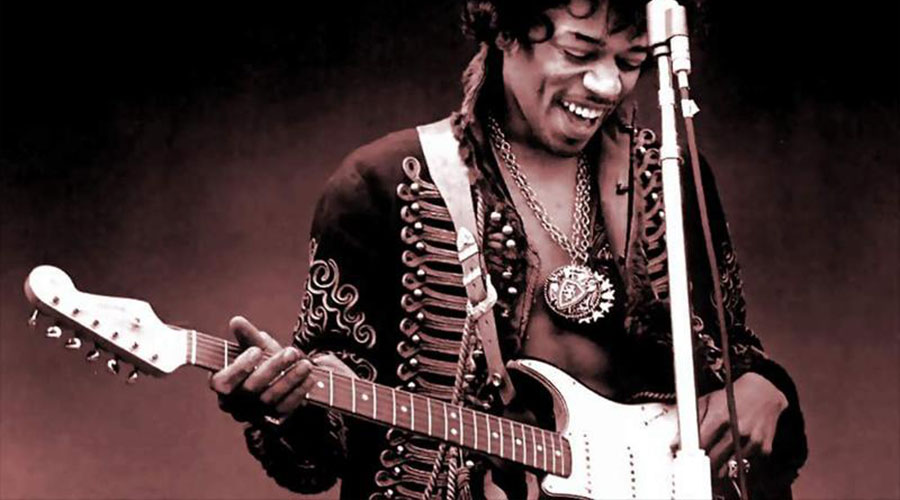 A seismometer measures the movements of the earth beneath our very feet, from barely perceptible ripples to "did you feel that?" to the full, ground-shaking, landscape-changing roar of a transformative shift in the surface of the earth. If there was a guitarmometer that measured the impact guitar players have brought to music, and that machine was applied to Jimi Hendrix (November 27, 1942 – September 18, 1970), it would be tested by one of the most powerful rock and roll quakes in history.
The Sound of the '60s
We usually think of a career in terms of decades, but Jimi Hendrix spent just about 8 years as a professional musician. His early work was as a sideman for a variety of pop and rock acts touring the southeastern US, starting in 1962. By 1965 he had held the guitar spot for The Isley Brothers and Little Richard. By late 1966 Jimi had left the US to live and work in England, where he found success as The Jimi Hendrix Experience and their first album, 1967's Are You Experienced.
Jimi spent the following three years performing his music his way. Almost overnight, the performance of rock music changed dramatically, from choreographed backing bands fronted by charismatic but accessible pop figures to high volume, high energy, improvisation-fueled concert events, quickly realized by hundreds of rock acts all over the world. Our science fiction machine would chart his brief, powerful musical existence as an off-the-scale impact on the world around him.
If you ask a large number of guitar players to name the top 10 guitarists they've enjoyed listening to, admired, and been influenced by, there is a pretty good chance that Hendrix would be in the top three, if not the first spot. It is also a pretty good wager that the remaining guitarists in those lists were influenced by Hendrix. His reach has been 50-odd years long now, and his music and the performances of it remain a powerful force in the guitar world today, from young beginners to seasoned players Jimi Hendrix has had something to say to nearly all guitarists.
The sound of Jimi Hendrix, his "tone", was the result of a fairly simple recipe. His amps and the few pedals he employed were all pumped out at as much volume as he could squeeze out of them. That volume and his physical approach to the guitar are two very important parts of his sound, his huge hands and his relentless attack on both the fretting and picking ends of the guitar were an integral part of his tone. The focus here will be on his guitars, that other part of the whole sound equation, particularly a few of the best examples of what Jimi Hendrix used.
Left Is Right
The most obvious thing about Jimi's guitars is their upside-down right-handedness being played by a lefty. Jimi started on the only guitar he had around him, flipped it over the other way, restrung it, and played. As an extremely left-handed 11-year-old kid, I picked up the right-handed guitar that was around the house and started playing without a thought as to which hand it was. Not long after that I realized the difficulty of finding a good left-handed guitar, and I never thought about it again.
Jimi Hendrix played his way for his entire brief life, even after his ascension to one of the highest-paid rock performers of his day. Even as Fender sent him left-handed Stratocasters he did not change. The effect of this unorthodox use on his unique sound has been and will be debated for the ages, but that was not his motivation. He did own a few left-handed guitars, but his reasoning was that they made far too many right-handed guitars, therefore no company could actually make good left-handed guitars. He wasn't right about that, but that is ok, that reasoning gave us what he became.
Jimi Hendrix's Guitars
Mr. Hendrix was photographed, videotaped, and audio recorded using quite a variety of guitars throughout his short career. Quite a few maker's works were photographed in the hands of a young Jimi in his earliest bands until he was gifted by the Isley Brothers his first Fender guitar, a 1964 Duo-Sonic. For a couple of years, Jimi made do with a couple of Duo-Sonics and an early Fender Jazzmaster.
When he arrived in England in the fall of 1966, Jimi Hendrix had only one guitar. The provenance of that guitar has been debated for decades, and whether it came from his girlfriend at the time or it belonged to Chas Chandler his manager, he started the large-scale tremors of his foundation-shattering musical odyssey with his first Fender Stratocaster.
The brief time between his arrival in England and death just 4 years later saw Jimi Hendrix photographed and videotaped using quite a variety of Stratocasters, along with a few other guitars during those peak years of fame. His version of a great rock show included his smashing and bashing, tossing and dropping, and finally, setting on fire whichever Strat he was using at the moment. These broken and burned guitars were sacrificed altogether or salvaged and rebuilt for his use, then moved on to new caretakers through the decades since. While he was indeed photographed with quite a few distinctly different Stratocasters, the focus here is on three of his most famous guitars and what did or didn't set them apart from the thousands of Strats being put to excellent use by the thousands of other guitarists of his time.
#1
We all have a #1, and Jimi's was a 1968 Stratocaster, Black with white pickguard, with a 2-piece maple neck that is usually referred to as capped. This was a maple neck with a maple fingerboard glued to it, as compared to the previous method and revived later, one piece with the fingerboard being the flat side of the neck, and it had the recently adopted Big Headstock that graced Stratocasters until 1981 or so. He called it Black Beauty.
Jimi Hendrix preferred new guitars, and this one was no exception, acquired new and used as it was received, bone stock. His girlfriend in the final years of his life, Monika Danneman, said this was his favorite guitar, and was the last guitar he played, the night of his passing. Jimi was seen using it at the last Experience gig, barely two weeks before his death.
The Woodstock Music and Art Fair, August 15 – 18 1969, in Bethel New York. Whether it is true that no act would follow him, or that it just worked out that way, Jimi Hendrix closed the show on the morning of the 18th with a fiery 12-song performance, including his legendary take on The Star Spangled Banner. He used Izabella, his Olympic White 1968 Fender Stratocaster, white pickguard, and two-piece maple neck. Like his #1, this guitar too was bought new and used as it was received. That performance, the sound, the man, and his stock Strat, remain to this day a milestone in rock guitar.
Jimi used this guitar frequently during the last two years of his life. There remains debate regarding another Olympic White Stratocaster that he owned at this time, and it is believed by some that photos of him with an Olympic White guitar in this period may be two different Strats, but that has not proven easy to prove.
StraTele
Jimi performed twice at Newport '69, on Friday June 20th with The Experience, and Sunday the 22nd he jammed with Buddy Miles and others. For both performances, he used an Olympic White Stratocaster which had been fitted with a Telecaster neck after Jimi had broken the original neck. The provenance of this Stratocaster is not verified but is believed to be a third white Strat and not either of the aforementioned.
A quick search will provide photos of the blue-suited, blue headband-wearing Jim tearing it up on this quite different guitar, used only these two times. Aside from the mystery it presented to many a young guitar player then, it is an excellent example of the work Team Hendrix often did with his guitars. Parts were exchanged for the broken bits and pieces suffered throughout his vigorous use and abuse of his guitars frequently.
Final Thoughts
With the exception of the third guitar and its neck change, all three guitars here were virtually the same as the Strats everyone else was using at the time. What set them apart was their good fortune in ending up in the hands of this master of the guitar, Jimi Hendrix.
Frequently Asked Questions
How many Fender Stratocasters did Jimi Hendrix own?
Many guitars in various states of burned and broken have been passed off as Hendrix guitars, far more than the reality. Black and White were his favorite colors, but he used Red, Blue, and Sunburst Strats as well. Those around him, management, road crew, and others associated with his career put the number of performance Stratocasters at 15. These guitars were narrowed down over his 4 years of use by breaking and being rebuilt with parts from others, while some were broken beyond salvage and discarded. He also ordered several Strats late in his life, but they were never picked up, bought instead by other guitar players.
What pickups did Jimi Hendrix use?
In March of 1968, at an Experience show in Cincinnati Ohio, Jimi used a Stratocaster fitted with three pickups hand-wound by a young Seymour Duncan. There is also at least one known use of a pickguard assembly containing pickups that were custom wound, the work of his road crew. It isn't clear what those pickups were, but it is clear that he used it only once. Jimi Hendrix liked and used the stock Fender single coil pickups found in stock Fenders of his day.
What became of the famous Jimi Hendrix Strats?
His #1 remained with his last girlfriend Monika Danneman until her death in 1996 and remains in her estate, not seen in at least 25 years. Izabella eventually settled at the Experience Hendrix Museum in Seattle Washington, bought for a reported 1.3 million dollars. The burned Astoria Theater Stratocaster, his first on-stage fire, was eventually auctioned to a private collector in 2008. The burned Monterey Pop Festival Stratocaster was broken up and thrown to the crowd, with a piece of it on display in the Metropolitan Museum of Art in New York. The burned Miami Pop Festival Stratocaster was given to Frank Zappa, who in turn left it to his son Dweezil, who restored it and performs with it frequently.
Share this post with your friends using these one-click sharing options:

👉 Click here to share on Facebook.
👉 Click here to share on Twitter.
👉 Click here to share on LinkedIn.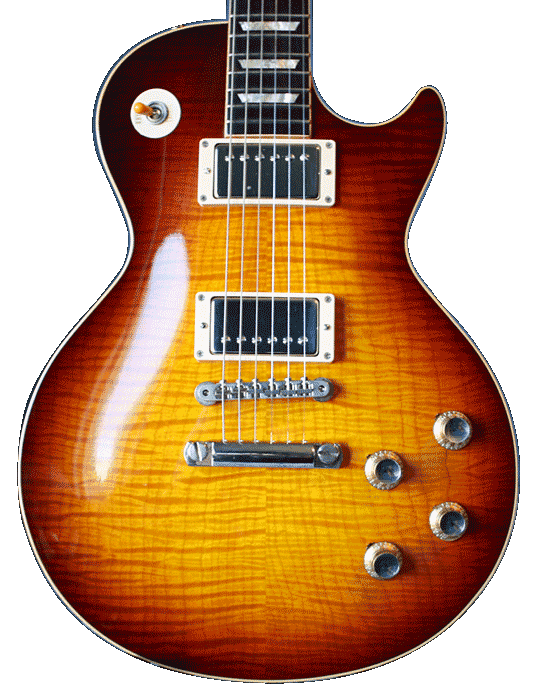 Subscribe to Gear Talk!
Get the latest reviews, tips and guides in your inbox.
By subscribing, you agree to get emails from GearTalk. We respect your privacy and you can usubscribe any time.